Kids! on Wednesday
Wednesday Elementary Programming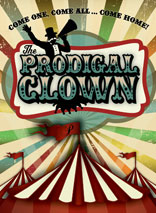 "You know what they say - life's a circus!"
Elementary kids are invited to participate in our Kids! Spring Musical, The Prodigal Clown. We'll tell Jesus' parable of the loving father and two sons with a high-flying twist. Be a part of the greatest show on earth - or at least the greatest show in northern Indianapolis!
Rehearsals begin Wednesday, January 16
and run from 6:30 - 8 p.m.
Performances are Friday, May 17 and Saturday, May 18 at 7 p.m.
Save yourself some time by completing your child's Musical registration form in advance. Download and print the form here and bring it to our first rehearsal!
You can also download a copy of important Kids! Spring Musical dates here.
Wednesday Preschool Programming
On Wednesday evenings, preschool-aged children (age 3-5) will have the opportunity to hear, see, touch, taste and smell the "fruit" of the Spirit.
"But the fruit of the Spirit is love, joy, peace, patience, kindness, goodness, faithfulness, gentleness, self-control." Galatians 5:22
Our time together will include play, coloring, crafts, Bible stories, snack, music, theme related games and DVD's.
Class runs from 6:30 - 8 p.m. Questions? Contact Kids! Ministry Director Barb Thorp at or 844.9355 ext. 24.
Kids! Care
Loving adults nurture and care for kids 2 and under in one of our nurseries. For more information, contact Kids! Ministry Director Barb Thorp at or 844.9355 ext. 24.
Find More Info